5 Best eCommerce Website Development Platform in 2018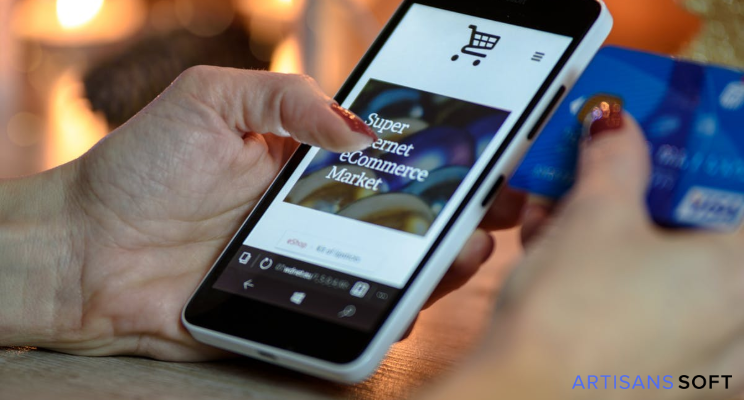 Do you know, "More than 80% of the online population has used the Internet to purchase goods and services."
That's explains everything why you need to have an ecommerce store to sell your products in today's competitive market. So, if you don't have an ecommerce website that simply means you are losing a large number of potential customers of your business.
So, today I am going to enlist 5 best ecommerce website development platforms. Read the info carefully so you can plan your ecommerce store in an efficient way.
#1 Shopify (Best eCommerce Website Development Platform)
Shopify grabbed the first position in this list. This ecommerce website development platform being used by 3,00,000+ stores worldwide. This huge figure explains how popular is Shopify.
Shopify is introducing lots of new features in their regular updates, which is going to make user experience quite rich.  Shopify is helping businesses by focusing on social commerce and mobile shopping.
Pros:
Just for 9$/month, you will be able to integrate Shopify to your Facebook account and turn it into an ecommerce store.

Shopify offers 24 eye catchy themes for free. You can buy premium themes for your Shopify store also, but for that, you need to pay little more.

You can integrate Facebook and Pinterest with your Shopify store.

Shopify comes with unlimited apps which can solve your every issue from accounting to social media.

Shopify offers 24/7 online support to its users.
Cons:
You need to pay an additional transaction fee if you are not using Shopify payment module.

Shopify offers plenty of apps for your every need, but you need to make the additional investment for that.
Shopify has it's own coding language "Liquid" which requires ecommerce store owners to pay an incremental price than normal even for a little customization.

Shopify doesn't provide FTP access to its users.

You will not get a better customer profile section like other ecommerce website development platform offers.
#2 Squarespace
Squarespace is basically for building regular websites. It comes with stunning and modern templates for an ecommerce store. Squarespace is best for those who are looking for modern, media-based design for their ecommerce store. Squarespace is packed with many features from social media to inventory management, which is necessary for any ecommerce store.
Pros:
The ecommerce plan for Squarespace starts from $26/ month only, which is cost effective.

The themes are better than Shopify and other ecommerce builders. You can even use the third-party theme for your Squarespace store.

The page loading speed is quite fast in Squarespace ecommerce stores.

Squarespace is highly SEO friendly.

24/7 online support from an expert team of Squarespace.
Cons:
Squarespace only let you collect your payment from one module, Stripe System.

Abandoned cart recovery system is not present in Squarespace.

Squarespace doesn't have their app store, though there is a third-party app store you can use.
#3 Bigcommerce
Bigcommerce is best suited for growing businesses who want to sell more products at the same time. Bigcommerce comes with the elegant and stunning themes for ecommerce stores. They used to sit right beside the Shopify store. Bigcommerce isn't self-hosted ecommerce builder, that means you don't need to pay for hosting separately.
Pros:
The plan for Bigcommerce starts at $29.95/month, which is a bit higher than Shopify and Squarespace. But, still, it's a good deal.

Bigcommerce mainly focuses on elegant themes but only 16 of them are free.

The backend panel is very user-friendly. You can easily manage coupons, discounts and social media from Bigcommerce backend panel.

You can integrate your Bigcommerce store with Facebook and sell your products with ease on Facebook.

Bigcommerce have an app store packed with plenty of options.

Bigcommerce provides 24/7 online technical support to its users.  
Cons:
The premium themes are quite expensive.

Social media selling tools are only present for the Facebook platform.

The translations are quite complex than other ecommerce builders.
#4 WordPress + Woocommerce
When it comes to website builders, WordPress doesn't require any introduction. This is one of the user-friendly and highly SEO optimized web builder. Woocommerce is a very popular WordPress plugin which helps you to build your stunning ecommerce store on WordPress with ease. WordPress is a self-hosted website builder, that means you need to buy a hosting first before you start creating your ecommerce store on WordPress. If you are new with WordPress and tech stuff, then you can hire an ecommerce web development company nearby you Like ArtisansSoft.
Pros:
WordPress is a free website builder.

The installation process is easy and less time-consuming.

WordPress is very user-friendly. That means you don't need to be a high tech geek for managing your store on WordPress.

WordPress is highly SEO friendly.

Woocommerce comes with the stunning ecommerce theme called Storefront. You can also buy third party and theme for your ecommerce store.

If you are looking for any specific feature, the opportunities are endless. You can find plenty of plugins for that on wordpress.org.
Cons:
You have to buy your own domain and hosting first.

Coding knowledge (especially PHP, HTML and CSS) is required if you wanna make changes on theme layout.

WordPress doesn't provide personal technical support
#5 Magento
Magento comes with two options self-hosted or hosted. Magento is an open source so you can self-host Magento, but for that, you need to buy a domain and hosting first. The second option is you can host your store with Magento also, but this is very expensive. Magento is best suited for big stores. This web builder is used by some of the big companies in the world, cause this is the most advanced ecommerce development platform.
Pros:
Magento comes with the biggest database of stunning ecommerce themes which cost from $50 to $100 (varies according to the theme).

You can customize frontend the way you want. The opportunity is endless.

The backend is packed with all the required tools for code editing which makes it's very user-friendly.

You can find plenty amount of third-party apps for Magento web builder.
Cons:
You need to learn Magento if you wanna manage it by yourself.

The hosted version of Magento is quite expensive.

Magento comes with so many features that will be overwhelmed you sooner or later.

You need to buy your own domain and hosting if you wanna go with the self-hosted plan.
You can create your ecommerce store with these 5 best eCommerce website development platform. Once you have your ecommerce store, you need to market it on social media. So, don't forget to check out my Facebook Marketing Guide before you leave the site.
If you are not a technical person, don't worry. You can discuss your project with us by filling a short form in our contact page. We provide end to end solution from web development to digital marketing for businesses around the globe.
Feel free to leave your query in the comment section below.