How To Get 1000 Followers On Instagram Fast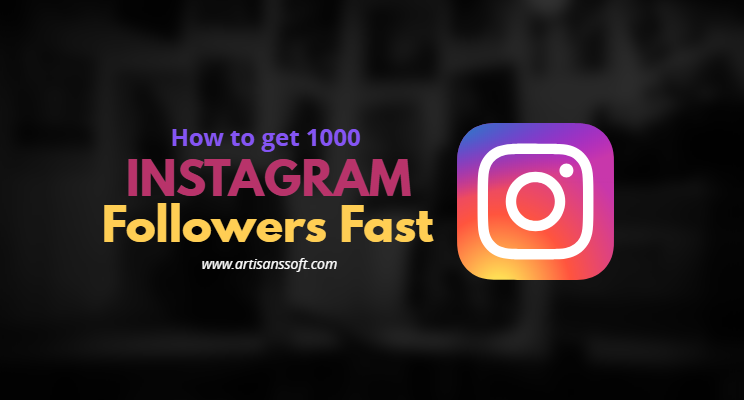 Instagram is one of the most popular social networking sites of this era. Social media presence helps in getting more fame and business for any organisation. Along with the social media presence, getting huge followers for your social media account is also very necessary. Instagram has created a lot of buzz in the social media market. According to the recent survey, Instagram engagement is 20 times more than Facebook and 50 times higher than Twitter. Here we are going to discuss the best way to get 1000 followers for your Insta account fast.
1. Finding the most catchy hashtags:
One of the best ways to gain Instagram followers is to use the most trending hashtags for your pictures. Use such caption for your pictures which are very catchy and attractive to your Insta followers.
2. How much content you need to post on a regular basis:
The second best way to get Instagram followers is by posting 3-4 times regularly in order to gain more attention from your viewers. So posting as much as possible will lure your followers towards your account and hence you will get more views for your content.
3. Identifying your target users:
Make the note of the likes and interest of your Instagram followers. Make note of most liked pictures of your Instagram account and try posting such pics on the regular basis. Try to reply to your followers often in the most polite way.
4. Posting Instagram Stories:
Instagram explore page shows your Instagram stories even to that audience which are not your followers. To make your Instagram story appear in the public Instagram story use hashtags and add location to your images. Also, remember to share Instagram stories and live videos to your other social media platforms.
If you are going to some life event or music gig, it is your time to shine and get more Instagram followers. Your followers are more engaged to see what is happening in your present life so going live yourself is the best way to gain more followers.
5. Going informative in your caption:
We have all heard of this saying " picture is worth the thousand words ", but that does not mean we can completely ignore the impact the words can have on your followers. Sometimes people want to read your opinion regarding the images or some inspiring quote you have posted in your Instagram account. These images with lengthy captions help in building your character in front of your followers. Hence also increases the possibility of getting shared on other social media platforms. So it is also one of the important ways to gain Instagram follower.
6. Getting your own style:
Followers are more attracted to new content and stylish post rather than outdated, boring and monotonous post. In order to get real Instagram followers to try to be as creative and as innovative as you can in your content. Make new catchy hashtags for your post to get more views instead of using old catchy ones.
7. Editing photos and using Instagram filters:
One of the best ways to get 1000 followers fast is by editing your photos and using Instagram filters in those images. To gain Instagram followers we should always use the best photoshop app on our mobile and try to learn some photography skills via youtube. So in this way by giving minimum efforts one can get more Instagram followers.
8. Start conversation with your followers:
What can be the best way to gain Instagram followers than interacting with your audience. It might sound absurd right now but in order to win the trust of your follower, you should try leaving humble comments on their photos. Start some conversation or some debate on the current hot topic like global warming with your followers and try to get their views on such topics.
9.Organising Instagram contest:
One can gain Instagram follower by organising some giveaways Instagram contest where you can allure your Instagram followers by making them participate in some contest and giving the winner some gifts. Post advertisement of such contest on the Instagram account of your followers and to your other social media platforms. Try to get more views and attention as you can on such posts. It is the best way to get noticed by those users who are not following you.
If you will follow these 9 steps on a regular basis then you can get targeted followers for your business Instagram account. But, if you are running short of time or not aware of such technical stuff, then feel free to discuss your project with us and watch your Instagram followers grow. Don't forget to read how you can get 1000 facebook page like fast.
Feel free to leave your query in the comment section.